Raise a Child Up...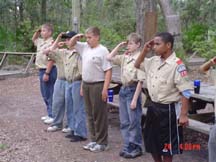 Yesterday's entry was on practicing random acts of kindness and it reminded me of the slogan of the Boy Scouts of America, "Do a Good Turn Daily." The scout program was important to my personal development as I grew from a Cub Scout to an Eagle Scout.
Raise a child up in the way he should go
and when he grows old he will not depart from it.
—Proverbs 226
Our Boy Scout Troop and Cub Scout Pack are number 226 for the verse above. Scouting is an important part of our ministries at King of Peace because it is a place where we can be involved in a positive sense in assisting parents in the task of teaching moral character. Where else other than church and in a scout troop would boys and girls be taught to "help other people at all time" and the other lessons of scouting. So our church is in use Monday, Tuesday and Thursday nights for Girl Scout and Boy Scout programs alike with Brownie and Junior Girl Scouts and the Girl Scouts leaders district meeting. And also Cub Scouts, Webelos and Boy Scouts.
I am thankful for the ministires of our scoutmaster Robert Davenport-Ray and his many leaders and our district girl scout leader Elaine Hodge and her many leaders. A sermon in the archives
Grace Upon Grace
concludes with a story of my scoutmaster Gene McCord personally intervening in my life.
Our troop's website is online here
Boy Scout Troop 226
.
peace,
Frank+
The Rev. Frank Logue, Pastor +
King of Peace Episcopal Church
A junior Girl Scout and some of our Brownie's in church with me
on Girl Scout Sunday.