Open mouth and insert...
Last week in our Sunday afternoon Education for Ministry seminar, Janet Finkelstein shared the following poem she had written: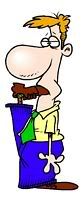 Dear Lord look down on me
And please let me see
that since I'm living in the South
I've got to shut this Yankee mouth.

Put some sugar on what I say
in my own caustic way
but if this is too hard to do
please open mouth and insert shoe.
I misunderstood her and for the better part of the week, I thought her last line of the poem read:
please open mouth and insert You.
referring to God inserting God's own self into her mouth instead of the caustic Yankee. Well, it turns out I was wrong and when I told her what I heard, she still preferred the line with "shoe."
Having worked with a variety of editors
on eight books
I wrote with my wife Victoria, I know what she means. She wrote the poem in her own voice and changing one word changes the meaning enough that even if I like it, that is my voice not hers. And expressing her voice in words may have been the point all along.
peace,
Frank+
The Rev. Frank Logue, Pastor
Then I said, "Woe is me, for I am ruined!
Because I am a man of unclean lips,
And I live among a people of unclean lips;
For my eyes have seen the King, the LORD of hosts."
Then one of the seraphim flew to me with a burning coal in his hand,
which he had taken from the altar with tongs.
He touched my mouth with it and said,
"Behold, this has touched your lips;
and your iniquity is taken away and your sin is forgiven."
—Isaiah 6:5-7