Whose Church?
La Lajas Cathedral in Columbia
Check out the
10 Divinely designed churches
in the Neatorama archives. I would have placed
National Cathedral
on the list. Do you have any favorites that didn't make it?
Wonder who owns the churches? In our case, King of Peace is held in trust by the Bishop of the Episcopal Diocese of Georgia. And as great a guy as our current Bishop, the Rt. Rev. Henry Louttit, is, it's not his, but belongs to his office.
At Vintage 21, a postmodern kinda church in Raleigh, North Carolina, one doesn't become a member of the church. What other churches would call members, Vintage 21, calls owners. As the Vintage 21 website puts it,
A member of an organization uses the facilities, gains from its services, takes a shower, and heads about their business. An owner makes the organization happen. Jesus wants His followers to make the church happen—go out and love people, nurture each other, and serve with your whole life. Ownership is a higher calling than membership. If you are a follower of Christ, then you are a co-owner of His church. Make Vintage21 happen.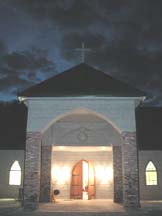 They like the word "owners" and I appreciate where they are going. My take is that no matter who holds the deed to the land and building, King of Peace belongs lock, stock and wheelbarrow out by the shed to Jesus Christ. The church is the people who worship here and they were all bought and paid for by Jesus' blood shed on the cross out of love for us. The Bishop holds the building in trust, but I am quite confident that our Bishop does so knowing to whom it all belongs.
I don't actually think the folks at Vintage 21 have different theology in this regard, but our vocabulary is much of what we have to express what we believe. What do y'all think about members vs. owners and whose church it is?
peace,
Frank+
The Rev. Frank Logue, Pastor
Note:
Tonight at 8 p.m., we will gather at the dumpsters in The Pines Apartments, which are on Douglas Drive in St. Marys at its intersection with Martha Drive. The brief service of hymns and prayers,
Light in the Darkness
is in response to a woman being murdered and having her body hidden in a dumpster there a week ago. Please come and stand alongside our neighbors who are in fear.
Labels: church