Thankless Jobs
Jesus calls us to the thankless job of serving others in his name. In
this weekend's Gospel reading
, Jesus says,
"Who among you would say to your slave who has just come in from plowing or tending sheep in the field, `Come here at once and take your place at the table'? Would you not rather say to him, `Prepare supper for me, put on your apron and serve me while I eat and drink; later you may eat and drink'? Do you thank the slave for doing what was commanded? So you also, when you have done all that you were ordered to do, say, `We are worthless slaves; we have done only what we ought to have done!'
Here are two examples of this sort of service found in real life: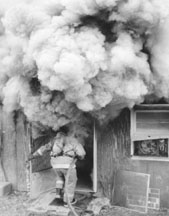 In the
Time Magazine
stories about the September 11th heroes, there was a mention of a particular firefighter who ran into one of the World Trade Center buildings just before it collapsed. Apparently a bystander tried to hold the firefighter back, saying, "You can't go in there." And the firefighter said, "Are you nuts? This is my job." And he charged ahead to do his job.
The story goes that when the famed missionary Dr. Livingstone visited the U.S., a contingent of dignitaries and media people swarmed around him when he got off a train. They wanted to be close to and hear from this great, respected, heroic person—to their surprise, looking over many of their heads, Dr. Livingstone pushed his way through and around many of them, bent on some mission, not basking in his glory as they expected he would and should. Once free of the crowd, Dr. Livingstone strode to the side of a little woman with a child struggling with her baggage; humbly asking if he could be of assistance, he stooped to help with her burden. One of the writers nearby overheard someone say, "Now that is a sermon walking."
Jesus calls us to serve others with no thought to reward, even the briefest of thank yous.
Blessing of the Animals
Our serice of the Blessing of the Animals is today at 1 p.m. at the gazebo in the waterfront park in St. Marys in conjunction with the Rock Shrimp Festival.
Labels: service