Transcendence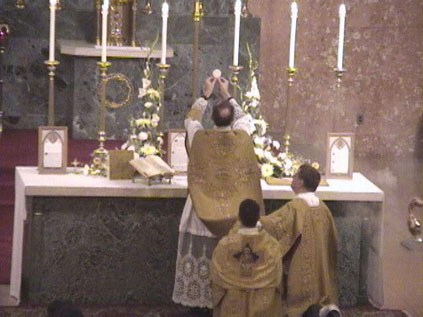 Transcendence refers to things that lie beyond the ordinary range of perception or are beyond human experience, at least in any usual sense. At its best, a worship service is transcendent in that it speaks directly to the heart in ways beyonds words. Garrison Keillor wrote of this in a recent essay on the experience of an Anglo-catholic high mass that he attended with a small congregation:
It was formal high Mass, none of that "hi and how are we all doing this morning" chumminess, and the homily only summarized the scripture texts about healing, it didn't turn into an essay on healthcare. Ten voices strong and true in the choir and positioned as they were under the great arch of the chancel, their tender polyphonic Kyrie and Gloria infused the whole building with pure kindness.

The singing was O my God just heartbreakingly good. There were less than 30 of us in the pews, fewer than the names on the prayer list, and to hear "Behold, how good and joyful it is; brethren, to dwell together in unity" sung so eloquently as the priests swung to their tasks was to be present in a moment of extravagant grace that does not depend on numbers or any other measure of success for its meaning, just as the Grand Canyon does not depend on busloads of tourists to be magnificent. Most of our brethren, bless them, are off enjoying brunch or reading the funnies or lifting weights at the gym, and our faithfulness does not make us better people. We simply happened to walk by and see this vast canyon of God's love and stand looking into it....

But here in an old brownstone church at an ancient ceremony, there is a moment of separation from all the griefs of this world. Ten men and women are singing a cappella, "Bless the Lord, O my soul, and all that is within me bless his holy name," and their voices drench us fugitive worshippers kneeling, naked, trembling, needy, in the knowledge of grace, and when we arise and go out into Baltimore, the blessing follows us.
The full essay from which this excerpted is online at Slate.com here
Sunday morning coming down
.
I have to acknowledge that King of Peace is probably more of the "hi and how are we all doing this morning" worship experience than of the nature of the transcendence of an Anglo-Catholic High Mass. I do know that in both styles of worship one meets God who does transcend our experience. But I sometimes have said that low church folks anticipate heaven more than high church folks, but that is probably because those in a high church tradition worship there each time they gather.
I think the trick for me is to open myself up to that experience of the God beyond experience when I come to worship. It's easy to get caught up in the who is there and what is going on, but also important to allow oneself to be present to the One who is there whose presence we can miss if we allow ourselves to be too busy to hear the still small voice of the divine.
peace,
Frank+
The Rev. Frank Logue, Pastor
Labels: worship