The Path to Sainthood III
The inclusion of persons on the national calendar takes place at the General Convention of The Episcopal Church, the once every three years meeting of the national church. As a deputy to that meeting, I have voted on the inclusion of saints in the calendar and did carefully and prayerfully consider their cause.
I admit that I was very skeptical about the inclusion of Florence Li Tim-Oi. She was the first woman ordained as a priest in the Anglican Communion. I found that mere fact to be the oddest reason to recognize someone as a saint, as it would rely on chance of history alone. Then I read more and discovered that there was much more to her story than being the first woman ordained as a priest in our communion. She had courageously led a group of Christians on Macau during the time of the Japanese invasion. She was serving as a deacon and no male remained to serve the Chinese Christians. She was willing to face possible persecution and death to continue the sacramental ministry among her congregation and was ordained as a priest.
After World War II, she ceased serving as a priest as that service was controversial in the communion, though she remained a faithful deacon in the very difficult circumstances of the communist take over and reeducation under Mao. Once again she lived a Christ-like life in a regime bent on suppressing her faith. She did not serve as a priest again until after moving to Canada in 1983. On the 40th anniversary of her ordination, women's ordination was approved there and she once again served as a priest. She was a woman of heroic faith who risked death to minister to the people in her care as requested by her Bishop and it so happens that she was the first woman ordained a priest in the Anglican Communion. Humbled by the example of a woman willing to serve as a Christian leader under Japanese rule in World War II and Chinese rule in Mao's revolution, and given the testimony of those who knew her, I was proud to vote for her inclusion in the calendar of saints.
I also voted to recognize Janini Lawum as a saint. I have only one degree of separation from this archbishop as I have known well someone who knew him well—a priest in seminary who had served as a deacon in Lawum's cathedral. Lawum was archbishop of the Anglican Church of Uganda during Idi Amin's cruel reign over that country. He stood up with other church leaders against Amin and was singled out to be put to death for his principled stand. This past February, the group from King of Peace sat at dinner during the diocesan convention with a retired Bishop from Uganda who also knew Lawum personally. He knew the archbishop to be a saintly man, martyred for his faith and he was grateful that his sacrifice was recognized by The Episcopal Church.
So while out process may not be the same as that found in the Roman Catholic Church (Pope John Paul II approved hundreds of saints during the time we admitted a few). I have found my involvement with it to be beneficial to my own faith. I am working on a long-term plan to help gain another group recognition in the calendar. They are the seven members of the Melanesian Brotherhood who were martyred in their successful attempt to bring peace to the then war torn Solomon Islands. The odd connection I feel with them through the experience of praying with them in their time of uncertainty I blogged about previously
Widening the Human Family
and I also preached about the martyrs of Melanesia here
The Great Cloud of Witnesses
. I trust that, in time, the witness of these seven Brothers will be added to our calendar of saints for The Episcopal Church as it has been in their own Anglican Church in the Solomon Islands and is in the process of being recognized in England.
peace,
Frank+
The Rev. Frank Logue, Pastor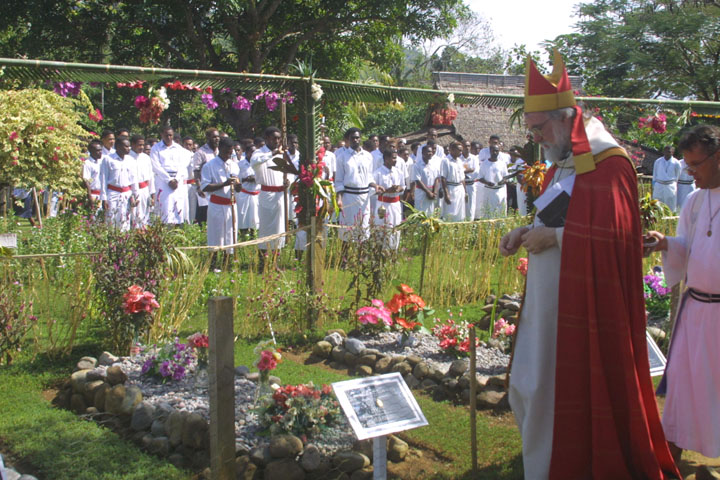 Archbishop of Canterbury, Rowan Williams, at the graves of the martyrs of Melanesia.
Labels: saints