Getting Your Crayons Back
In an article called, Creativity in Christ, St. Marys UMC Youth Pastor Jim Morrow writes about rehearing the lyrics of a John Mayer song,
whatever happened to my lunch box, when came the day that it got thrown away and don't you think I should have had some say in that decision?"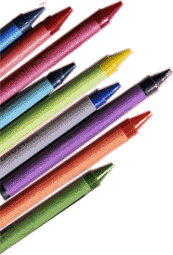 The lyrics and a related blog entry sparked thoughts of how crayons are given to everyone in kindergarten, but taken away at puberty and replaced with Algebra books and the like. It's a thoughtful article he wrote for the Methodist denomination's Young Adult Network and the full text is online here:
Creativity in Christ
.
If you want your crayons back RIGHT NOW, go to
King of Peace's online coloring book
where you can always be a co-creator with Christ.
If you want to see how some others are using their creativity in artistic ways, visit
The Episcopal Church and the Visual Arts
website.
peace,
Frank+
The Rev. Frank Logue, Pastor